One of the longest-running pet stores in the West Kootenay region, Kootenay Critters & Pet Supplies in Castlegar offers a full range of pet food and accessories for all your four-legged and feathered friends. From premium-brand food for dogs and cats to grooming products, pet beds, toys, treats and more, you'll find everything you need at Kootenay Critters & Pet Supplies.
We are all animal lovers ourselves and that's why we strive to provide the best-quality products and services for our customers. In 1993, we started as a small, family-owned and -operated pet and supply store, and over the years we've expanded our business to include grooming services, obedience training, doggy daycare, pet boarding as well as pond supplies, garden statues and decor.
In order to offer our customers the best possible advice and knowledge, we continually upgrade our certifications. Our professional staff include certified groomers, kennel management technicians and animal hygiene experts.
Is your dog looking a little shaggy? Give us a call to book a grooming appointment
Even the most pampered pooch needs a little extra care once in a while. Give Kootenay Critters & Pet Supplies a call to book a grooming appointment for your furry friend—250-365-7370.
Five-star reviews for Kootenay Critters & Pet Supplies
"Very knowledgeable staff, was very willing to help answer all my questions, would highly recommend!" ~ Derek
"Excellent groomers—always do a good job on my puppy and are patient with new dogs." ~ Susan
"Owners are down-to-earth good people. They are always easy to deal with and wonderful to our dogs. Our dogs love going there for daycare. They come home exhausted from all the playtime and are always happy to go back." ~ Leslie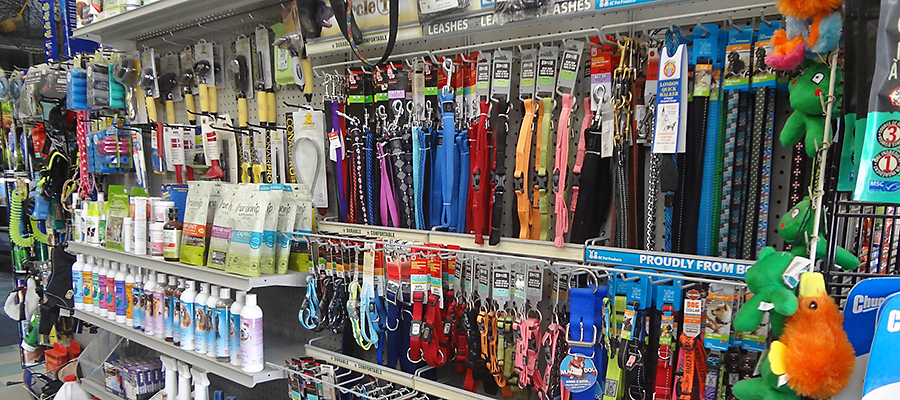 Find a full range of pet supplies for all kinds of animals at this Castlegar store
Kootenay Critters & Pet Supplies carries a full line of pet supplies, clothing, toys and treats for your pampered pets and feathered friends. We serve customers from across the West Kootenay region, including Nelson and Trail.
Come down to our location at 502 Columbia Avenue in Castlegar and have a look at what we offer for dogs, cats, small animals and birds. Whether it's a collar or leash, feeding accessories, cages, grooming supplies or pet beds, you'll find the perfect product for your furry friends.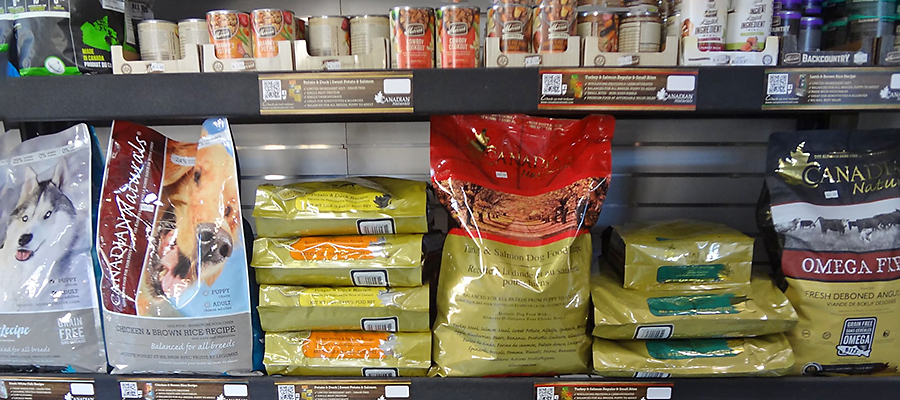 Quality premium pet food brands available from this West Kootenay pet store
Maintain your pet's optimal health with our wide selection of premium pet foods for dogs and cats. At Kootenay Critters & Pet Supplies, we're all animal lovers too and understand that our customers ultimately want the best for their beloved pets. Choosing a premium brand of pet food over commercially available grocery-store or big-box-store brands offers your pets superior nutritional value. Our helpful staff can assist in choosing the right product for your pet's needs.
Grooming services for dogs and cats from this West Kootenay pet store
Make your pet feel like a million bucks with professional grooming services from Kootenay Critters & Pet Supplies in Castlegar.
Booking regular grooming services keeps your pet looking and smelling its best, but did you also know that it's an important step to maintaining your pet's optimal health? Regular grooming sessions help to keep your pet's skin and fur clean and free of irritants. Certified groomers are also trained to spot parasite infestations, ticks and skin infections. Another benefit? Grooming helps to reduce shedding!
At Kootenay Critters & Pet Supplies we also offer nail trimming for dogs, cats and small animals.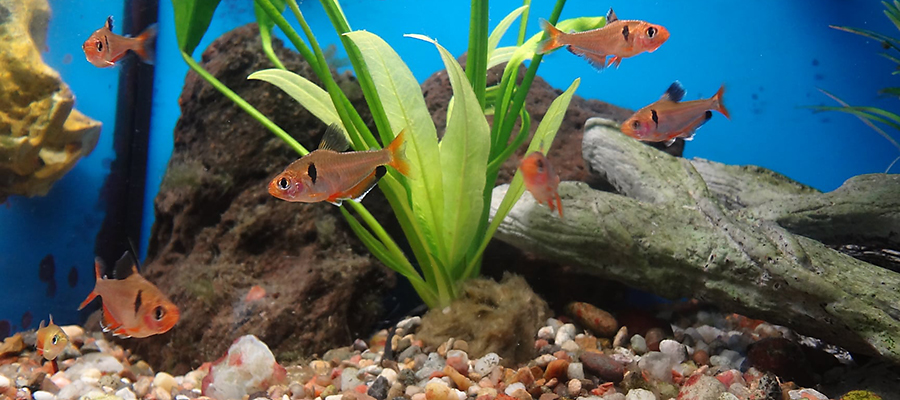 Find fish and pond supplies at this Castlegar pet supply store
Kootenay Critters & Pet Supplies is the largest supplier of fish and pond supplies in the West Kootenay area. We carry a full range of pond supplies—everything from pumps and lights to the fish, plants and decorative accents you'll need to finish off your backyard oasis.
Want to build a backyard pond? Advice on getting started from this West Kootenay pet supply company
A backyard pond or water garden is a beautiful addition to any outdoor landscape. Come and talk to the experts at Kootenay Critters & Pet Supplies. We have a wealth of knowledge and advice to help you plan and build your perfect backyard pond.
After deciding on a budget for your pond project, the first step you should take is to decide how large you want your pond to be. Will your pond have fish in it or will it just be a garden feature? If you want fish, then the depth of your pond is important—ideally the depth should be about 76 centimetres (30 inches) or deeper. Anything less and your pond is vulnerable to water evaporation in summer and freezing in winter. You'll also want to consider things such as decorative features, waterfalls and fountains, and the types of plants you'd like to use.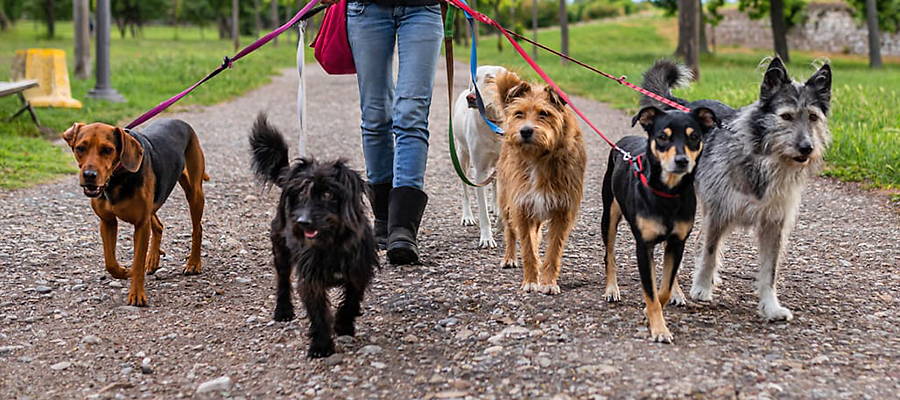 Doggy daycare services and adventure hikes available at this Castlegar store serving the West Kootenays
There's times when your dog just can't be at your side and you need a reliable place to drop them off for a few hours. At Kootenay Critters & Pet Supplies, we offer a fun and active doggy daycare service for your four-legged friends. Our daycare hours are generally from 8:30 a.m to 5:30 p.m. Monday through Saturday, unless there's a holiday. Dogs will need to have a flea and lice treatment in place before drop-off.
We also offer adventure hikes for your pooch pals. Hikes run on Tuesdays, Thursdays and Fridays and are full-day adventures. This fun day for your dog includes exploring local trails and playing in a fenced, secure enclosure full of balls, climbing toys and tunnels.
Interested in either our daycare services or adventure hikes? Give our store a call at 250-365-7370 to discuss your needs.
Need pet boarding? Give this West Kootenay pet kennel a call
Get quality boarding services for your beloved pet at Kootenay Critters & Pet Supplies in Castlegar. We have a 2,600-square-foot facility nestled on eight hectares (20 acres) and can offer your pets days full of fun and adventure in a safe, secure environment. All pet rooms have in-floor heating. There is a large indoor playroom on the property as well as a fenced-in outdoor play space for sunny days, complete with climbing ramps, rocks and pools.
Services and products offered at Kootenay Critters & Pet Supplies:
Pet supplies - dogs, cats, small animals, birds and fish
Pet toys and accessories
Premium animal food - dogs, cats, small animals
Pond equipment and supplies, aquarium plants
Grooming, teeth cleaning, nail clipping
Obedience training
Boarding, doggy daycare
Adventure hikes for dogs
Garden ornaments
When is Kootenay Critters & Pet Supplies open?
Monday to Saturday: 9 a.m. - 5:30 p.m.
Closed Sundays and holidays
When was Kootenay Critters & Pet Supplies started?
1993
Contact info for Kootenay Critters & Pet Supplies
Address: 502 Columbia Ave, Castlegar, B.C.
Phone: 250-365-7370

502 Columbia Ave Castlegar V1N1G7