Everyone loves a well-stocked retail and supply store. At Nelson Farmers Supply, we're so much more than a farmer's store! We carry the most comprehensive selection of pet food and pet supplies for dogs, cats, small animals and livestock in the West Kootenay area. If you are looking for premium quality products at great prices, check us out.
Planning a plumbing project or have a leaky faucet? Nelson Farmers Supply stocks fittings, fixtures, pipes and all the supplies needed to complete your project. We also supply plastic, septic and storage tanks.
Spruce up the interior or exterior of your home with a new coat of paint—Nelson Farmers Supply is an authorized dealer for premium Benjamin Moore paint and supplies. Come visit us and we'll help you brighten up your world.
Protect your outdoor building projects with quality exterior stains and finishes
Just finished building that outdoor deck you've always dreamed of and want to make sure it lasts? Nelson Farmers Supply is an authorized dealer for Benjamin Moore Paint. We offer a large selection of premium exterior stains and finishes that will provide superior protection and enhance the texture and grain of your wood projects. Visit our store at 524 Railway Street in Nelson or give us a call at 250-352-5375.
Five-star reviews for Nelson Farmers Supply
"Great service, great people! Very helpful and knowledgeable. A long time Nelson family business. If you have any plumbing, electrical or painting needs, this is the place to go." ~ Vincent
"Well stocked; knowledgeable staff; fair prices. Always my first choice for paint, plumbing, electrical, splitting mauls, snow shovels, garden tools, pet food." ~ Tom
"This store has a wide variety of items useful for gardening – from tools to seeds to soil. They also have reasonably priced high quality pet food. . . they have a great selection for all your painting needs." ~ Rhiannon
Read more five-star reviews about Nelson Farmers Supply here.

Buy natural and vet-recommended pet foods at Nelson Farmers Supply
Our pets are like family, and as responsible owners, we all want the best for our furry friends. At Nelson Farmers Supply, we carry a wide range of pet foods designed for the optimal health of our pets.
We stock many premium brands and formulations designed for your pet in every stage of life and health. Whether you need an all-natural product made with 100 per cent organic ingredients or a specially formulated food designed for overweight pets or animals on special diets, you are guaranteed to find a product that will ensure your pet is getting the complete and balanced nutrition they need.

Plumbing emergency? Find out the six most common plumbing problems and how to fix them with help from Nelson Farmers Supply
No one wants to deal with a plumbing emergency, but unfortunately, they happen. Nelson Farmers Supply has an extensive range of plumbing supplies in stock for when emergencies do happen. Here's a list of the most common household plumbing problems along with tips and tricks on how to solve them:
Overflowing toilet: Your first step is to shut off the water flow to avoid flooding. Unclogging a toilet may be as simple as applying firm vertical pressure with a plunger. More serious clogs may require an auger, which can be used to fish out debris that is blocking the flow of water. Once the blockage is removed, reset the float mechanism and turn on the water valve.

Stopped-up sink drain: The best way to prevent a clogged sink drain is to avoid dumping grease, coffee grounds and other dense material down the drain. In most instances, a plunger will clear material from your drain, but if that does not work an auger or plumbing snake may be necessary.

Burst pipes: A burst pipe can release up to 100 gallons in an eight-hour period—a serious emergency! Burst pipes are often caused by corrosion over the years. If a pipe does burst, immediately shut off the water supply. Remove any furniture or other items if possible to minimize further damage and call a plumber immediately.

Leaking pipes: Depending on how serious the leak is, the average homeowner is often able to fix a leaky pipe. If the leak springs from the joint, first tighten the joint with a wrench. A rubber patch may do the trick if water is slowly leaking. Another option is using waterproof tape over the leak.

Sump pump failure: If the sump pump is not working, remove the screen to make sure debris is not preventing movement of the impeller. If the impeller is clear, your pump may not be getting enough electricity or have a defective float switch.

Water heater malfunction: Common water heater problems include a leaking tank, water that is either too hot or too cold, water that has a strange colour or odour, and noises coming from the water heater. If the heater is leaking, call a professional for assistance. If there is no leak, flushing the water tank may solve colour and odour problems, as well as improve the heater's efficiency.

Find inspiration picking the perfect colour of paint or stain for your next project at Nelson Farmers Supply
Picking out a paint colour can be tricky for many people. There are many factors to consider: the style of existing furnishings, the type of room and mood you wish to convey, colour-coordination and the type of paint to be used.
Nelson Farmers Supply is an authorized dealer for Benjamin Moore paint and supplies, and our experts can assist you with deciding on the perfect paint colour for your needs. Here are a few questions and suggestions to consider:
What kind of colours are you naturally drawn to? Most people are drawn to a particular colour, so that should be a major factor in your choice. If you dislike red, it doesn't make sense to paint the living room of your home a vibrant colour of cranberry, does it? Trust your intuition as to what makes you feel comfortable. Also take into account the feeling that you are wanting to evoke. Cool colours like blue and green are generally serene and calming, while warmer colours such as orange, red and yellow are spirited and energetic.

Is there natural light? Light, or the lack of it, can make the same paint colour look completely different. A friend may have used a colour of paint you love in their house, but it won't necessarily look the same in yours. Buying samples of colours you like helps you to envision how a particular colour will appear in your space.

Go bold—on a small scale. Many people are scared by bright and bold colours. If this is you, consider using a bold colour on a small space like an accent wall or fireplace. This way, you get the pop of colour you desire but it won't overwhelm your space.
Products and services offered:
Pet food, supplies and accessories for dogs, cats, small animals and livestock
Plumbing supplies, fittings, fixtures, pipes
Authorized dealer for Benjamin Moore paint and stains
Electrical supplies
Garden supplies
When is Nelson Farmers Supply open?
Monday to Saturday: 8:30 a.m. to 5:30 p.m.
Closed Sundays and holidays
Who is the owner of Nelson Farmers Supply?
John and Marilyn Van Zanden
What payment options does Nelson Farmers Supply accept?
Interac, Visa, MasterCard, Cash
Contact information
Address: 524 Railway Street, Nelson B.C., V1L 1H4
Phone: 250-352-5375
eMail: nelfarm@telus.net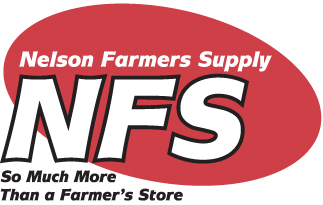 524 Railway St Nelson V1L1H4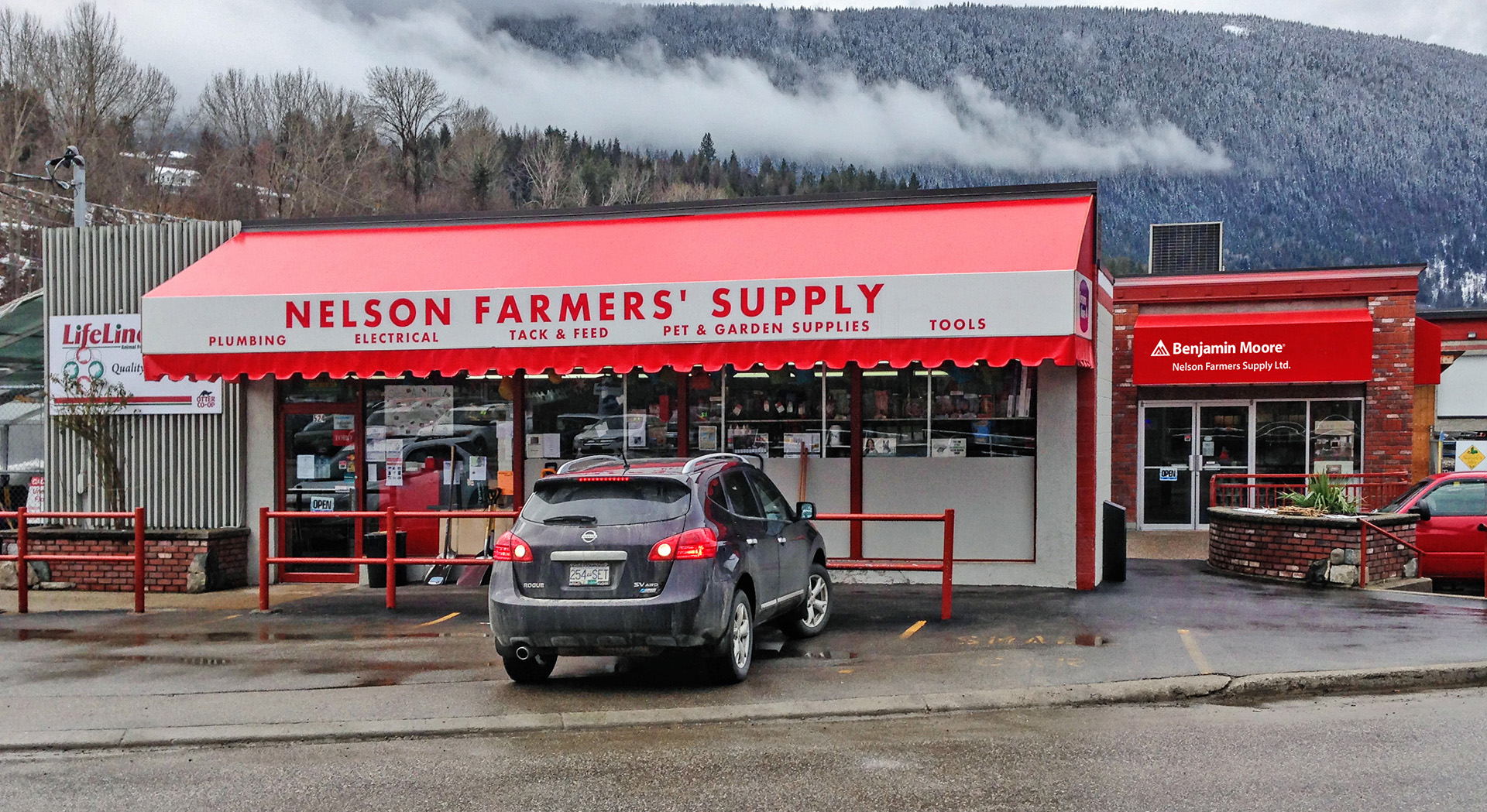 Nelson Farmers Supply is located at 524 Railway Street in Nelson.